Adoption Fees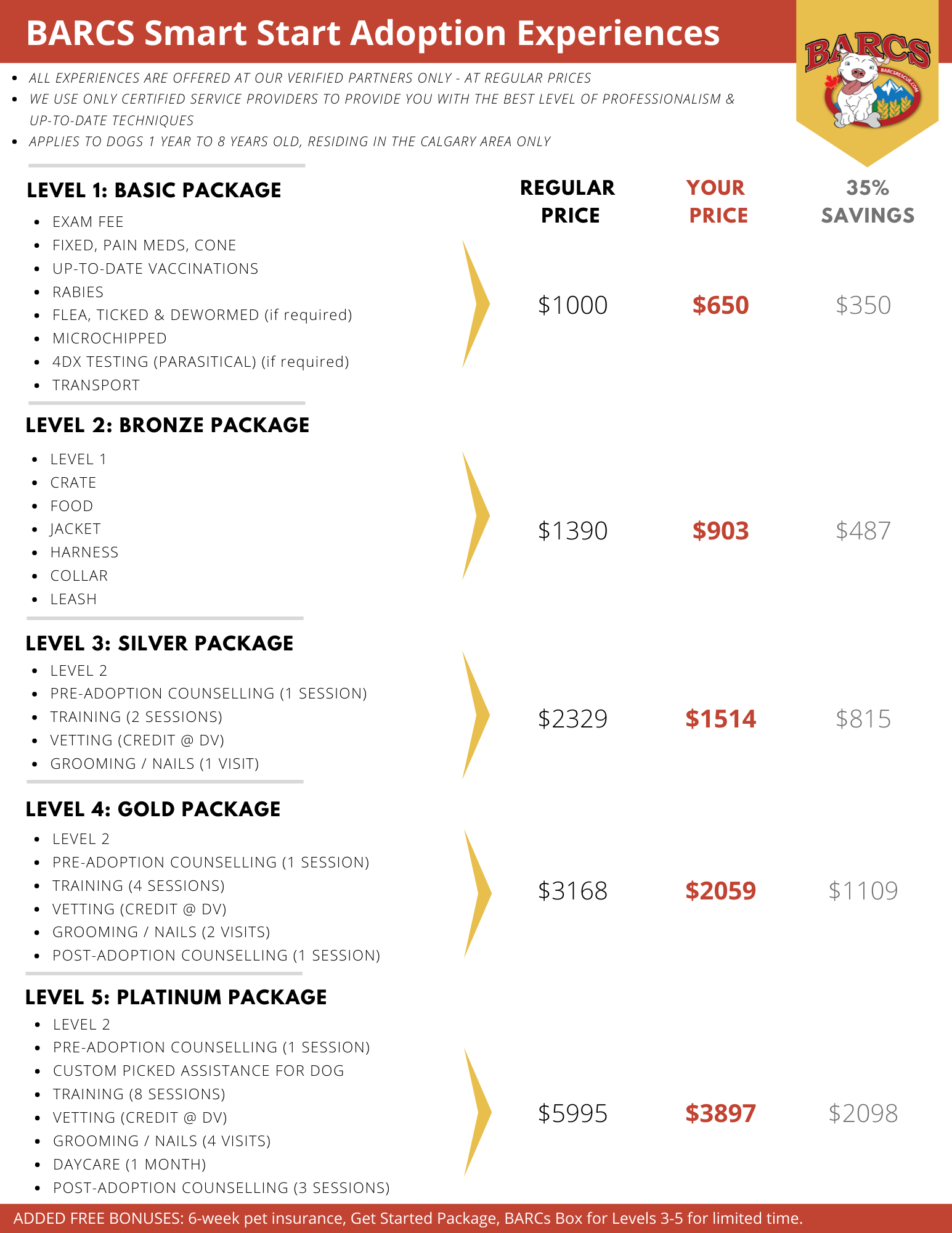 View and download our Smart Start Adoption Program.
View PDF
Our adoption fees are as follows:
Adult dog (1 year and older)- $650
Puppies (8 weeks up to 1 year) - $725
Senior dog (small dogs 10 years and older, large dogs 8 years and older) - $375
Bonded pair - $850
As of January 1, 2022, We are starting a new pilot program at BARCS called the Smart Start Adoption Program which will include adoption packages with various tiers. We will be starting this for Calgary only at this time and more information will be coming soon! If you would like more information about this program or live somewhere other than Calgary, please contact us at
adoption@barcsrescue.com
and we will be happy to work with you.
Adoption fees are donations to help support the upkeep of animals in our care. If you were to pay a similar fee for an animal through a breeder or pet store, not only would you not be helping a pet in need, you'd be paying for intentional breeding that has led to an overpopulation of pets.
Adoption fees help cover the medical care of the animal while he or she waits for a new home, as well as food and transportation costs. These fees also help to cover costs for the other animals in the care of our rescue who may have medical bills that are much higher than any possible adoption fee. The payment also acts as a donation to help support the organization as a whole, allowing BARCS Rescue to continue its efforts to rescue and rehome more loving pets.
The adoption fee at BARCS Rescue covers, but is not limited to:
Veterinary wellness visit, exam or Health Certificate
Spaying or neutering
DA2PP vaccination
Rabies vaccination
Heartworm test for dogs incoming from outside of Canada
Flea/tick treatment if required
Microchip (registration by owner)
Deworming
Other care deemed necessary per that pet.
Access to an online portal for your pets records and continued record keeping should you choose
BARCS Rescue will continue the adoption of pets who have pending veterinary care, covered on the BARCS Rescue veterinary account. These pending veterinary tasks will be detailed in additional contracts that accompany the adoption contract. These incomplete adoptions will be followed by a veterinary authorization email that the adopter must abide by in order for the tasks to be covered on the BARCS Rescue veterinary account. The adoption will be final when all approved veterinary tasks have been completed.